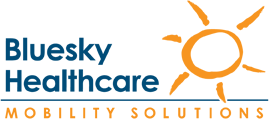 Stairclimbers
A stairclimber offers a cost effective solution to an elevator or a platform stairlift. Easy to handle and transport, these robust machines can serve as a quick solution for many mobility problems. If not needed anymore the stairclimbers can easily be sold again to another user.

We offer the following unique stairclimbers:
• Stairmax – only stairclimber worldwide for independent use
• Public – only stairclimber worldwide for electrical wheelchairs
• SA-2, SA-S and SA-3 – standard stairclimbers for different purposes
and space requirements
• Evac-Skate - evacuation chair
HELPING SENIOR AUSTRALIANS ENJOY A BETTER QUALITY OF LIFE.

TESTIMONIALS
See more. . .
"I know you spoke to Diana yesterday but I just wanted to add my appreciation for a job well done. Everything went smoothly and we were particularly impressed by the way in whi..."

Terry

"Hi again. I just want you to know that if I have a need for any other services that I will not be going anywhere else. Bluesky Healthcare are caring friendly and very helpful...."

Sue

"Hi Nat, I just wanted to thank you for all your help with the electric bed and the recliner for Gail B. I spoke with her and she has the bed and is very happy. I also just..."

Emma
‹
›
Questions? Queries?
Our staff are happy to help so
give us a call!
Ask us about our products or
our service!
(08) 9242 7333
CONTACT US NOW
Get in touch with us today!