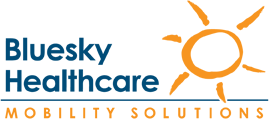 Lift and Recline Chairs
Bluesky Healthcare's offers a range of different Lift and Recline Chairs. We have been a manufacturer of custom-made lifting chairs since 2001. A few years back we have decided to manufacture our brand o lifting-chairs overseas, to provide a second more budget friendly option to our customers. We now carry both a WA- made custom range and a ready-made imported range.
Our Budget friendly imported chairs are available in many different sizes, functions, backs and materials including leather options. They feature an ergonomic design with a full leg chaise to give you the utmost comfort while in a seated or reclined position. The quiet and reliable motor allows you to adjust the lifting chair to many different positions. All our lifting chairs offer the lift function, which assists you in getting out of the seat, by lifting the chair at an angle to a comfortable and safe perching position.
If you want that extra bit of comfort and flexibility, you can choose our WA custom made chairs. We handcraft your chair here in Western Australia according to your measurements and requirements. You can customise your seat size, leg length and the shape of your back. The vast range of different materials, including leather, will allow you to design a chair that suits your decor and your personality! The only thing stopping you is your imagination.
The Chair in the below video features one of our Budget friendly, one motor, Wallglider chair in cream leather.
You can choose from numerous different types of chairs, including a Space Saver or Wallglider chair (as featured in the above video). This chair has one motor and an easy to use control with two buttons only. The main advantages of this chair are the fact that it only needs 15cm clearance from a wall to recline to a comfortable position and that unlike other chairs it will raise the footrest before reclining the backrest, allowing for a comfortable sitting position with elevated legs while reading or watching TV.
Another option is a two motor Bed Chair. As the name suggests the back of this recliner reclines to a horizontal position as a Bed. While many healthcare professionals advise against spending extended periods of time sleeping in a chair, some people like to take a nap in a horizontal position rather than in a reclined position. One of the main features of the Bedchair is the fact that it's headrest and footrest can be controlled completely independent from each other. This means that you can recline to your comfort level and adjust your feet while maintaining the same degree of recline.
Our third type of chair is a so-called Tilt in space chair. This is a single Motor lift and recliner similar to the Wallglider. However, it will maintain the preset angle of your back at all times. This means that the footrest will come up higher than on either of the other chairs to support your body. This chair is also slightly different in its proportions, featuring a higher backrest with more contouring along the sides to increase support and provide safety while reclined.
HELPING SENIOR AUSTRALIANS ENJOY A BETTER QUALITY OF LIFE.

TESTIMONIALS
See more. . .
"I know you spoke to Diana yesterday but I just wanted to add my appreciation for a job well done. Everything went smoothly and we were particularly impressed by the way in whi..."

Terry

"Hi again. I just want you to know that if I have a need for any other services that I will not be going anywhere else. Bluesky Healthcare are caring friendly and very helpful...."

Sue

"Hi Nat, I just wanted to thank you for all your help with the electric bed and the recliner for Gail B. I spoke with her and she has the bed and is very happy. I also just..."

Emma
‹
›
Questions? Queries?
Our staff are happy to help so
give us a call!
Ask us about our products or
our service!
(08) 9242 7333
CONTACT US NOW
Get in touch with us today!