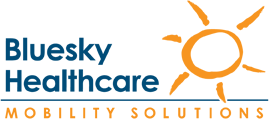 Mobility Scooters
Which Scooter is right for me?
As part of our on-going commitment to quality and reliability, Bluesky Healthcare has sourced mobility scooters from Heartway Scooters, a global manufacturer reputed for their research, design, innovation and quality. Our range of scooters in Perth are designed for Australian conditions and is quality ISO 9001 certified. In addition to being the exclusive distributors of the top branded mobile scooters in Perth, we offer added scooter customisation options that cater to your individual needs.
Our stylish, comfortable and reliable Perth Scooters give you more access to an active lifestyle, improving your quality of life and enabling you to live an independent life to the fullest. Shopping for a new scooter is like shopping for a car and can get overwhelming. Our experienced consultants are trained and experienced in recommending the right scooter for your needs.
There are 4 main types of Scooters:
Folding Travel Scooters
Small Portable Scooters
Medium Scooter
Heavy Duty Scooter

A Travel scooter (also known as a lightweight mobility scooter), is the smallest and most compact of the range. Depending on the model it easily folds into a small stroller sized package or dismantles into easily manageable parts and fit into most car boots. The main benefits of this type of scooter include; its size, weight and convenience in storing, use and ease to transport. Due to their small size and lightweight, these Scooters are perfect for you if you want the flexibility to take your scooter wherever you go, for example, Caravan Trips, Cruises, and even aeroplane trips. The small size excellent turning circle makes these perfect for indoor use and confined spaces. This scooter is recommended for people who plan to travel with it or will mainly use it indoors and for shorter trips around local Perth neighbourhoods, as the compact size also means a smaller battery, shorter range, and less suspension.
A Medium Size Scooter is perfect for you if you plan on using your scooter both indoors and outdoors on terrain that is flat or has moderate hills. The higher seat, improved suspension, and additional padding will ensure that you stay comfortable throughout your journey, while the headlights, side mirrors, and the electric display will make you feel secure and in charge. Its medium size will allow you to move freely in shops and public spaces as well as allow you to use public transport with ease and confidence. These Scooters host a larger battery, longer range - around 30km, and a higher weight capacity of roughly 130kg. Still allowing you to move around your extended Perth neighbourhood to the shops, parks and all other places of interest.
Heavy Duty Scooters, these powerful Scooters are designed for outdoor use on various surfaces. They feature headlights, brake lights, indicators, a powerful motor and battery, a well-built frame and good suspension. With a large Battery, they offer an excellent range with a top speed of 10km (to comply with Australian regulations) and a comprehensive dashboard giving you all the information you need. The higher seat and headrest provide extra comfort and allow for the best possible visibility. These Scooters are recommended for people that want it all and or plan on using their Scooter on a regular basis, for extended trips, over rough surfaces or usage in predominantly hilly terrain. These scooters are the top of the line in their class and leave nothing left to be desired in terms of design, safety and comfort. A range of different accessories are available for all our scooters in Perth, including rear shopping baskets, sun canopies, and others. Some scooters come equipped with a front basket.
HELPING SENIOR AUSTRALIANS ENJOY A BETTER QUALITY OF LIFE.

TESTIMONIALS
See more. . .
"I know you spoke to Diana yesterday but I just wanted to add my appreciation for a job well done. Everything went smoothly and we were particularly impressed by the way in whi..."

Terry

"Hi again. I just want you to know that if I have a need for any other services that I will not be going anywhere else. Bluesky Healthcare are caring friendly and very helpful...."

Sue

"Hi Nat, I just wanted to thank you for all your help with the electric bed and the recliner for Gail B. I spoke with her and she has the bed and is very happy. I also just..."

Emma
‹
›
Questions? Queries?
Our staff are happy to help so
give us a call!
Ask us about our products or
our service!
(08) 9242 7333
CONTACT US NOW
Get in touch with us today!