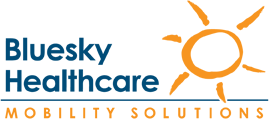 Sadler
Have a question?
Give us a call today
9242 7333
Download our FREE
Scooter
Buyer's
Guide
Sadler.

Step into freedom
Designed specifically for people with limited flexibility, the Sadler is an entirely new concept in stairlift design. It offers a fresh alternative to traditional and perch-style stairlifts, helping you maintain a more upright posture at the same time as taking much of your weight through the seat, minimising the weight supported by your legs.
---
Overview
---
Features

Arm-to-footrest link You can fold away the downside arm and the footrest will fold automatically when you are not using your stairlift. There's no awkward bending down, which is particularly useful at the top of the stairs
Was-to-use controls Intuitive arm control makes operating the Sadler effortless
Saddle-style Seat, The unique saddle-style seat, enables you to maintain a more upright posture and minimises the weight supported by our legs. The assisted seat feature offers easy entry and exit from the chair. The seat height cab be adjusted on installation to fit you
Easy to use seatbelt Use the specifically designed belt which can be fastened directly and easily with one hand. The stairlift will not operate unless the seatbelt is securely fastened.
Safety sensors around the footrest and carriage automatically detect any obstruction on your stairs, bringing your Saler to a safe and gently stop. The stairlift will not operate unless the downside arm is lowered.
---
Step by Step Guide
1. Your Sadler can be folded against the wall when it's not in use, giving you and other stair users more space
2. To unfold your Sadler, just lower the arms and the footrest unfolds too
3. A gentle movement of the control is all it takes to make your Sadler glide effortlessly upstairs or downstairs
4.When you arrive at the top of the stairs, the assisted seat feature offers a safe exit from the chair
5.When not in use at the top of your stairs your Sadler can be left in the open position
6. Using the wall-mounted remote control, you can send and receive your Sadler to either end of the stairs
---
Measurements


TESTIMONIALS
"I know you spoke to Diana yesterday but I just wanted to add my appreciation for a job well done. Everything went smoothly and we were particularly impressed by the way in whi..."

Terry

"Hi again. I just want you to know that if I have a need for any other services that I will not be going anywhere else. Bluesky Healthcare are caring friendly and very helpful...."

Sue

"Hi Nat, I just wanted to thank you for all your help with the electric bed and the recliner for Gail B. I spoke with her and she has the bed and is very happy. I also just..."

Emma
‹
›
Related Products
Get in touch with us today!