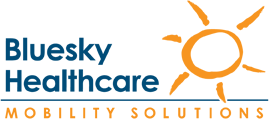 Easy Move M
Have a question?
Give us a call today
9242 7333
Download our FREE
Scooter
Buyer's
Guide
Please note this Scooter is no longer Available
The Heartway S21M is a lightweight folding scooter. It is also commonly referred to as a Travel Scooter, Portable Scooter or Folding Scooter. It's lightweight frame and lithium battery make it perfect for all kinds of travel. The Heartway Easy Move Manual folds up easily by pushing a lever located on the left-hand side of the Scooter. This lever can be either pushed by foot or hand, once the mechanism is engaged it only takes on figure to complete the folding motion. The Easy Move Manual is our lightest scooter and weighs in at 17.5kg without the battery and 19kg with battery.
It's small size and great manoeuvrability makes it perfect for easy and effortless transport. You can easily take it in the boot of your car, check it in for air travel or use it on modern cruise ships. Most airlines won't charge an additional fee when travelling with mobility equipment. You can ready more about travelling with Mobility Scooters here or read more below.
Thanks to its sleek design this stylish three wheel scooter has excellent manoeuvrability with a turning circle of 850mm, which allows you to navigate tight spaces with ease. We have added some anti-tips on the side as well as an innovative G-sensor, which slows down the scooter automatically when turning, to offer increased stability and safety.
This Easy Move automatic is the right travel-scooter for you if weight and convenience are your main priority and you are planning to use your portable-scooter predominantly indoors and on even surfaces, such as cruise ships, well-paved pedestrian paths and shopping centres.
---
Easy to read Display Secure Battery Cover Break lights and buttons for folding Storage case with zip
---
Must-knows for travelling with battery operated mobility equipment
1. Know your Mobility Equipment - Make sure you know the make and model of your scooter, it's dimensions when folded as well as the type (Lithium, Gel, Led) and size ( Voltage (V) and Amp Hour (Ah)) of the Battery
2. Book your flights in person or over the phone - Ensure you mention that you are planning on travelling with mobility equipment. Ask if you need to complete any forms or forward any information ( this will vary from airline to airline as well as on domestic and international flights). This is also a very good time to ask for assistance that is available to you at the airport and during transfers. Make sure you double check if you incur any additional fees by travelling with mobility aids, this should be free on most airlines. However, some budget airlines may differ.
3. If required forward any additional information to either your travel agent or to the airline directly. This is a good time to find out if you will have to remove the battery pack from your scooter when checking it in. If so, prepare for it and organise a separate bag or backpack that can easily and comfortably accommodate the battery while travelling.
4. Before you head to the airport, it is always a good idea to take a few pictures of the mobility-aid you are taking with you. They may come in handy if there are any damages after the flight Depending on the airline regulations and your type of aid you may have to remove the battery from the scooter before travelling. It is also best practice to keep a copy of your verification compliance certificate on you when travelling (this can be requested from your dealer)
5. At the Airport - Proceed to the check-in counter as usual. Depending on the type of battery your scooter uses, you may now have to remove the battery pack if you haven't done so already. After this has been done, you can store your travel-scooter in it's travel case (if you have one). The scooter will be checked into the cargo hold of the aeroplane along with your other luggage, depending on the airline regulations you may have to carry the battery with you as hand luggage.
6. After the Flight -Check if the scooter has been damaged during the flight, if so use your images from prior the flight to report the damage. Most luggage collection areas have a service counter.

TESTIMONIALS
"I know you spoke to Diana yesterday but I just wanted to add my appreciation for a job well done. Everything went smoothly and we were particularly impressed by the way in whi..."

Terry

"Hi again. I just want you to know that if I have a need for any other services that I will not be going anywhere else. Bluesky Healthcare are caring friendly and very helpful...."

Sue

"Hi Nat, I just wanted to thank you for all your help with the electric bed and the recliner for Gail B. I spoke with her and she has the bed and is very happy. I also just..."

Emma
‹
›
Get in touch with us today!