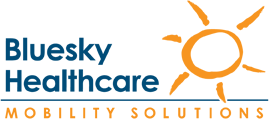 Regulation and Must Knows for Travelling with a Mobility Scooter or Power Wheelchair on an Airplane
Wether you are planning a relaxing getaway or planning to visit family or friends if you are planning on travelling by plane and taking your mobility scooter, powered wheelchair or powerchair some things are important to consider.
---
Many people in Australia are unsure if they are allowed to travel with their electric mobility aids and what the processes and regulations are. The main culprit causing uncertainty are the batteries. There are a few different types of batteries that can power electric mobility equipment with the most common ones to be Gel Batteries, Lead Acid Batteries and Lithium Batteries. Most portable mobility scooters and powerchairs are powered by Lithium Batteries to allow for easier lifting and transport.
We have spent a fair bit of time doing our research and speaking to Quantas and other airlines regarding their policies. One of the most important factors to note is while all the airlines specify that batteries are forbidden on airplanes they also state that electric wheelchairs, powerchairs and mobility scooters are exempt from this.
This means that you can take your mobility equipment with you providing that the battery is a non-spillable battery. Most portable aids are equipped with non-spillable batteries, however, if you are unsure what batteries your piece of equipment has, you may be able to read it on the battery label, it should be stated in the user manual, or you can call your supplier.
When it comes to travelling with lithium batteries, they must be handled properly. Lithium batteries for mobility scooters must not exceed 300 amp hours between all batteries in the device. Most mobility devices have two or 24 volts. Some have three or 36 volts and even four at 48 volts. Lithium batteries must be in their protective cases, with the battery pack or wire harness disconnected from the mobility device and any connectors have to be taped over. The protective case is usually a plastic housing with some handle to help carry the battery. The below images pictures an example of a Lithium Battery in its protective cover. You can read more about the Qantas requirements here
It is rather simple to transport your mobility scooter or power travel wheelchair on a plane. The most important part is to be organised and to plan ahead. It will save you a lot of stress later on.
You have to check in your scooter or wheelchair into cargo, but the good news is that this is FREE. On most airlines, you will be allocated a mobility equipment allowance which will allow you to check-in your mobility aid on top of your existing luggage allowance, without having to pay any additional fees or charges. The battery, however, will need to be carried as hand luggage. So when choosing a scooter or electric wheelchair consider the weight of the battery if you are planning to fly with it.
When booking the flight, try to go to a travel agent or book over the phone rather than online. This will allow you to speak to someone directly and advise them that you will be travelling with your portable scooter. Try to have your user manual or battery information ready to go as they may ask you some questions. The consultant will then talk you through any particular requirements and the process specific for their airline.
When we spoke to Qantas, we were asked to send and email to get airline approval before the flight specifying the type of battery, voltage (V) and battery amp hour (Ah) rating. Further, they offered further assistance, e.g., having an air hostess waiting with mobility equipment at the check in counter and between transfers (all free of charge). You should also ask your scooter supplier to provide you with a verification of compliance certificate for your battery as some airlines might require this. Just keep this document with your other travel papers and you should be ready to go!
---
The image below shows an example of this document.
---
Many people travel with different types of equipment including mobility aids, so most airline staff are familiar with these and how to handle them. However due to the cost of the equipment it may be advisable to invest in a travel case and/or take some pictures of your electric wheelchair before checking it in, just to be extra safe in case there is any damage, turbulence can often be the cause of damage claims. If you do notice any damage, it is best to report it while you are still at the airport. There are usually service counters in every baggage collection area.
---
To make it even easier, we have summed all the most important points up in the diagram on the left. We always love to hear about your experiences so we can better advise our customers, so please if you have any experience, good or bad, travelling with you portable scooter, electric wheelchair or powerchair or any other medical mobility equipment, please let us know!
Please bear in mind that rules may vary when travelling in different countries, so always call ahead to double check!
<< Back to Blogs
categories