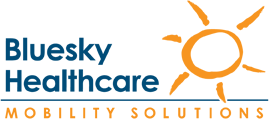 Solax Maleta
Have a question?
Give us a call today
9242 7333
Download our FREE
Scooter
Buyer's
Guide
The Solax Maleta is the newest and lightest travel scooter in the Solax Family. Designed for weight and convenience, the Maleta weighs in at just over 21kg without batteries or 23kg with plane-safe Lithium batteries and folds flatter than any other Travel Scooter.
The Maleta comes with a digital display for easier monitoring of your trip. The screen shows you your speed of travel, battery capacity, time and distance travelled.
The Maleta is an automatic folding travel scooter, merely push the button and watch your travelscooter fold itself into a slim package. For security reasons the gopher will stop the folding process half way through, allowing you to determine if it is safe to fold in the place you are and to ensure no items are obstructing the mechanism. Once you have established that it is safe to keep folding. Just push the button again and watch the scooter fold itself to an easy to handle upright position. Three short beeps indicate that the folding process has been completed and your travel-scooter is ready for transport.
This handy travel-scooter also comes with two other folding options in case the remote has been lost or damaged. Two buttons on the dash allow you to use the automatic folding function without using the remote. In case your battery is flat, or you removed your battery you can take advantage of the manual override fold, lift the marked handle in the centre of the scooter base to manually fold the scooter.
To reduce the weight, this scooter has been designed with a minimalistic approach. The front has a flat design allowing for more foot room, while the seat is made of soft rubber with a small yet high backrest that provides support to the middle of your lower back, allowing for comfort and safety. The backrest has been designed with a spring system so as you lean into the seat you will feel the back giving way.

TESTIMONIALS
"I know you spoke to Diana yesterday but I just wanted to add my appreciation for a job well done. Everything went smoothly and we were particularly impressed by the way in whi..."

Terry

"Hi again. I just want you to know that if I have a need for any other services that I will not be going anywhere else. Bluesky Healthcare are caring friendly and very helpful...."

Sue

"Hi Nat, I just wanted to thank you for all your help with the electric bed and the recliner for Gail B. I spoke with her and she has the bed and is very happy. I also just..."

Emma
‹
›
Get in touch with us today!