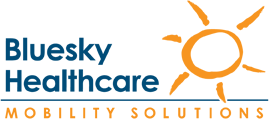 All Bluesky Healthcare Mattresses are made here in Western Australia and are specifically designed for the use on our Adjustable Beds.
You may be surprised to hear that you can stick to cooling innerspring mattress although you have chosen a luxurious electrical adjustable bed. The mattresses are made from the highest quality materials that are very durable, and that will hold their shape even on an adjustable bed. All our Mattresses come with peace of mind five-year warranty, so you can rest assured that you have made a quality purchase.
Most electric beds have a metal bar that is needed to hold the mattress in place and stop it from sliding off the bed. While this solution is passable, it can often be unsightly and get in the way of being able to sit on the foot end of your bed. We have developed a system that attaches the mattress with a heavy duty Velcro-style strip. This strip is worked into the mattress and runs horizontally across the base of the mattress and finds its counterpart on the base of the bed. This way the mattress is secured to its frame, without causing any visual or physical disturbance. However, if you prefer the traditional bar holster, we can mount this for you at no extra charge.in the middle of the mattress, securing it to the bed.
The mattresses are available in all standard sizes, as well as extra long sizes to allow for Split-Queen and Split-King options. Further by having our mattresses custom made, we can offer unique options such as low profile mattresses and special sizing.
Our mattresses are designed with your comfort in mind and are all kept to a below average thickness. Thinner mattresses don't mean a loss of support, but you will find that the lower height will allow you to enter and exit your bed with greater ease.
Our Current Range includes five different choices, ranging from an Innerspring to a Luxurious Latex option.
At Bluesky Healthcare we believe that a mattress is a very personal choice, we have made demonstration sized models, so we can bring them to your home, where you can try most of the options. Alternatively, you can come to our showroom to get a "feel" for each. Simply give us a call and let us know when it would be a convenient time for you.
HELPING SENIOR AUSTRALIANS ENJOY A BETTER QUALITY OF LIFE.

TESTIMONIALS
See more. . .
"I know you spoke to Diana yesterday but I just wanted to add my appreciation for a job well done. Everything went smoothly and we were particularly impressed by the way in whi..."

Terry

"Hi again. I just want you to know that if I have a need for any other services that I will not be going anywhere else. Bluesky Healthcare are caring friendly and very helpful...."

Sue

"Hi Nat, I just wanted to thank you for all your help with the electric bed and the recliner for Gail B. I spoke with her and she has the bed and is very happy. I also just..."

Emma
‹
›
Questions? Queries?
Our staff are happy to help so
give us a call!
Ask us about our products or
our service!
(08) 9242 7333
CONTACT US NOW
Get in touch with us today!