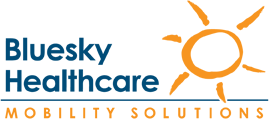 The ScooterPac all weather canopy
Do you rely on your scooter to get out&about in your community? If so I'm sure that you are well familiar with the problems that winter brings. While we NEED the rain in Western Australia and shouldn't complain about it being rainy if you are a mobility-scooter user the rain can really impact your day in a negative!
Not so long ago we had one of our customers try to brave the bad weather with an umbrella, however, halfway from the train station the umbrella broke, and he arrived very wet and cold at our Showroom. Umbrellas don't hold up well with all the wind here in Perth at the best of times, but trying to drive a mobility scooter, while holding an umbrella is incredibly tricky and can be quite dangerous.
Luckily we have the solution! The ScooterPac is finally back in stock! The Scooterpac Canopy is the world's first and only universal folding canopy that fits almost any Scooter on sale today. The Image on the right shows the ScooterPac fitted on the Kymco Agility, the largest of our medium sized scooters. The intelligent design allows you to fold the canopy back behind the seat when not in use and sets up in seconds when the weather changes and it's needed.
Using high-quality specialised materials such as ultra-durable polymer sides, airplane grade aluminium and a high-clarity windscreen the ScooterPac will allow you to use your scooter no matter the weather.
The all-weather canopy comes with universal fittings, which allow it to fit almost every scooter currently available. It attaches behind your seat, where the rear shopping bag usually sits, as well as under the armrests of your scooter and velcros at the front of your mobility-scooter for a secure attachment. As a bonus, you can quickly zip and unzip the sides allowing for a comfortable amount of airflow if required or keeping it nice and cosy and out of the wind.
Specifications
Frame Material: Powder Coated Aluminium
Canopy Material: Waterproof Nylon
Window Material: Perspex
Cover Material: Waterproof Nylon
Max Windspeed: 60mph winds
Folded Size: W630 x H830 x D180 mm
Open Length: 1150mm
Open Width: 600mm
Open Height: 1200mm
Headroom*: 1000mm
---
If you require further information, please feel free to give us a call on 08 9242 7333 we are more than happy to explain everything that is ScooterPac. Or for a first-hand demonstration, you can come into our showroom to see how it works and inspect the quality for yourself. Alternatively, we also offer free in-home presentations. Please make sure you let us know when you are coming in, as we often take the demo ScooterPac to customers all around Perth and it might not be available to be viewed if you "just drop by".
Fantastic places to visit this winter on your scooter in Perth include Kings Park, Elizabeth Quay and Fremantle. Keep your eyes open for our next article about accessible places and activities in Perth!
<< Back to Blogs
categories