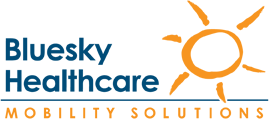 Mobility Scooters & Public Transport
Many people are not aware that you can use your mobility scooter on public transport. This will allow you to go even further on your mobility scooter.
However, while there are many great advantages of taking your mobility scooter on public transport, it's important to keep in mind the product your travelling on and it's capabilities. Most Electric Wheelchairs, Powerchairs and Mobility Scooters haven't been crash-tested. This means that they are not suitable to be used as a seat on an moving vehicle. We always recommend that you read your user-manual to find out about any manufacturers warnings and if in doubt, use the accessible seating while on any Transperth service.
It is also important to check the rules and regulations, for us beeing located in Perth, Western Australia, that would be the transperth website.
There is a wealth of information on this site, giving you information such as
-the maximum size of scooter allowed on a train or bus
-the minimum size of wheel to safely navigate any gaps and ramps
-turning circle requirements
-information on additional assistance
Alternatively, you can also stop by your local transperth office and ask for the mobility aid brochure that they have, which outlines all of this information for your convenience.
---
Busses

Transperth also has a list of bus services by time and line that are fully wheelchair accessible. There is a wheelchair symbol on your bus timetable, which indicated which routes are serviced by fully accessible buses unless the schedule notes any exceptions. However, if there is a bus service breakdown, transperth may have to replace an accessible service with a non-accessible service.
It's great to see that a lot of the bus routes in Perth are entirely serviced by fully accessible buses, and hopefully, this list will continue to grow.
If you need to use a service that does not appear as an accessible service you can also contact transperth on their info line 13 62 13 and ask to be put in touch with the depot that runs your bus. They will try to provide an accessible bus if possible.
---
Cat Busses

All Cat busses are low, fully accessible with clearly marked spaces for wheelchairs or mobility scooters.
---
Trains

All trains and most train stations are wheelchair accessible and listed below. However they may have long ramps, that will require quite a bit of elbow grease if you are travelling on unmotorised equipment...
| Lines | Stations |
| --- | --- |
| Armadale/Thornline | Armadale, Beckenham, Carlisle, Gosnells, Kelmscott, Thornlie and Victoria Park |
| Fremantle | City West, Grant Street, Loch Street, Mosman Park, Shenton Park, Subiaco, Swanbourne and West Leederville |
| Joondalup | Butler, Clarkson, Currumbine, Edgewater, Glendalough, Greenwood, Joondalup, Warwick and Whitfords |
| Mandurah | Bull Creek, Canning Bridge, Cockburn Central, Kwinana, Mandurah, Murdoch, Rockingham, Warnbro and Wellard |
| Midland | Bassendean, Maylands |
| Perth City | Claisebrook and Elizabeth Quay |
If your train station is not listed above, it means that while it has some accessibility features, it may not be entirely accessible. When you are planning your journey, you may contact Transperth staff for assistance on 1800 800 022 and for further information on facilities available at each station.
---
Ferries
All Transperth ferries, as well as the Barrack Street and Mends Street Jetties, are wheelchair accessible
---
Additional Assistance
Transperth provide an excellent service for any trains and stations that are not entirely accessible. All you need is to call ahead, let them know what time you will be alighting or boarding which service and they will send out staff members to assist you with ramps or help you
---
Hints & Tips
- plan your journey ahead of time (know where you are going, check if your services/stations are accessible), it is also a good idea to call and ask if the lift at the station you are planning on using is in good working order.
- If you need assistance call ahead and book it in the number is 1800 800 022
-Try to avoid travelling during peak times as there might not be enough room to accommodate your mobility aid
-If it looks like a busy service try and enter the train right at the back or front as these carriages are usually a little less crowded.
<< Back to Blogs
categories